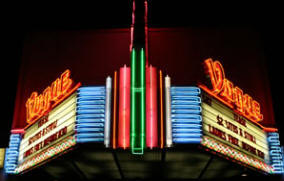 The Duke of Indiana
In the 1970's I stopped in the Vogue, that venerable Rock and Roll hot spot in Indianapolis. A groovin' four piece band named "Duke Tomato and the Allstar Frogs" opened up this this little ditty. I always loved it...hope you do too.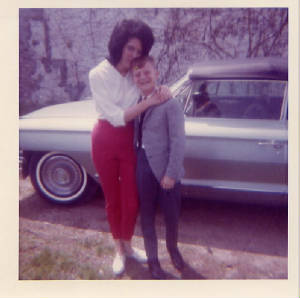 If you look closely you can see I am the proud owner of my first pair of Beatle boots!
Little Sister
I would like to dedicate this tune to my sister, Tonya...a huge Elvis fan. Tonya is someone who played a big part in my music quest. First of all, Tonya is my older sister. When she got old enough to move out on her own she left me a stack of 45 rpm records, which I preceeded to wear out. Tonya's music tastes got me pointed in the right direction with tunes like the original Pretty Woman by Roy Orbison, Unchained Melody by the Righteous Brothers, and What'd I Say by the late great brother Ray Charles.
Plus, Tonya helped be get my first guitar. It was an "Audition" brand from Woolworth's dime store. (for younger folks, think Dollar General, but when small items only cost ten cents.)
Then, as luck would have it, my Schwinn Stingray bike was stolen. Amazingly, I had insurance which paid me $50! Tonya helped kick in the cash to reach that lofty goal of $69 for that first Woolworth electric guitar. Life was good!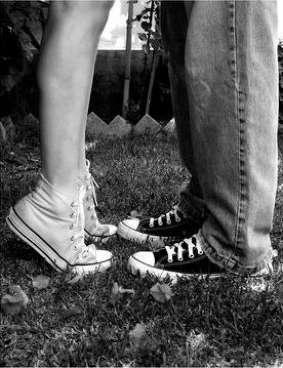 Twilight Time
It is time tunnel time folks. Travel with me...if you dare...to a time when love songs were slightly more romantic, and slightly less vulgar than your typical tune of young love in the 21st Century. The vibes of that earlier love involved more hand holding, and fewer tongues. A social philosopher might remind us that "The only thing constant is change."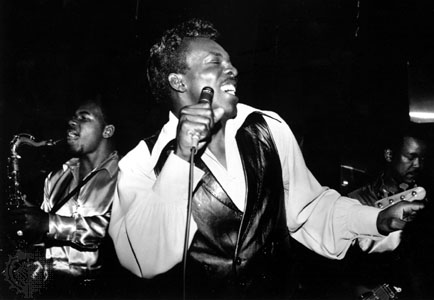 Use Me
What a great funky tune. If you were a young musician growing up in the 1960's the groovy sounds of R&B were engrained in the part of your brain which stores the memories of the music you love them most.
Barry Gordy's entrepreneurial spirit which spawned Motown, the gritty Memphis tunes eminating from Stax Records, the work of James Brown, Ray Charles, and on and on.
If you don't believe the extent of soul influence on the budding entertainers of my generation, research a little to find out which artists the Beatles and the Rolling Stones most wanted to meet during their 1964 British Invasion. It was a long list of soul stars.
Hope you can get down with your bad self while enjoying my rendition of "Use Me".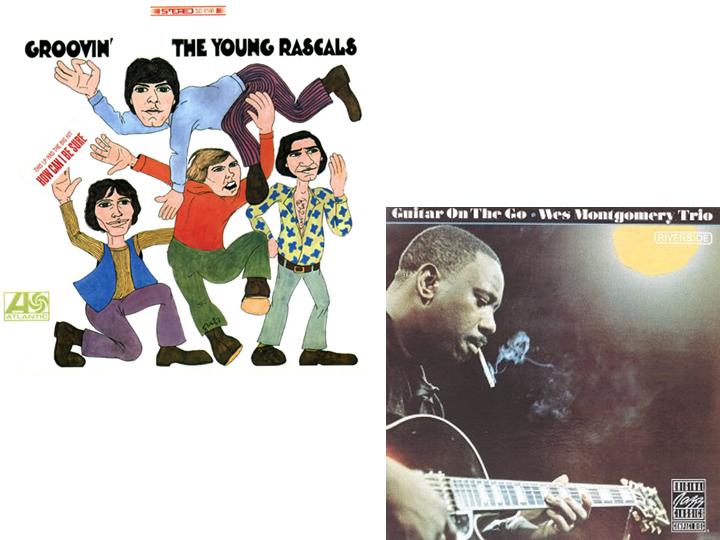 Groovin' with Wes
...Peanut butter and jelly, a Harley and a pair of broken-in jeans. Don't you just love it when two things go together so great? This tune gives me a chance to pair up two of my favorites...Felix Cavaliere of the Rascals, and Hoosier native Wes Montgomery.
If you are a music lover of 60's music you are familiar with the blue-eyed soul sound of Felix Cavaliere. He and his group the Young Rascals, were major movers in the East Coast club scene. The members of the Rock and Roll Hall of Fame cranked out hits like Good Lovin', Come On Up, How Can I Be Sure, Ray of Hope, People Gotta Be Free, etc., etc.
I loved the way the Rascals possessed a real ability to put their special brand of soul into a tune and really ENTERTAIN an audience.
Hoosier jazz legend Wes Montgomery was one of the most influencial guitarists of the 20th Century. In the 1950's and 1960's you might have found him playing any club on Indiana Avenue in Indianapolis. This district was the undisputed Mecca of Jazz and Rhythm & Blues
in the state.
Wes also found great commercial success with major record labels. This success also came with a dark side though (doesn't it always?) the major labels wanted Wes to put out light Pop records (translation- elevator music)...which stiffeled much of Wes' soul and blues feel.
Anyway, I paid a little tribute to Wes by including a little of that sweet octave melody line technique he pioneered...coupled with the great Groovin' by the Rascals.
All of Me
I don't know for sure where I got my love for tunes from the Rat Pack era. Maybe it was my Dad, who in his youthful days played trumpet for a real racoon coat era jazz band called Feddy Meek and his Rhythm Rascals. He always loved music and always had it playing in the house.
Maybe it was from knowing and playing with Larry Mechem Sr., a legendary band leader in Indiana. While working with Larry I learned things like that A-Train was not the same song as Long Train by the Doobie Brothers.
Or...maybe I got my love for these American Standard tunes from my Uncle Russ...Russ Conley. Uncle Russ was an Indiana radio personality who worked his way all the way up to Chicago for awhile. But, Russ was at his best with a live crowd. He could turn a room from boring to fun in seconds!
Whatever the reason...can you think of one star today who is a top recording star, in addition to being a top movie star, in addition to being a top live performance draw, in addition to being a top television star? Now imagine three of them together in a Vegas club setting...killing the audience. That was Frank, Sammy, and Dean. It was a flash on the timeline of history which will never be surpassed, and really influenced me. I dedicate this swingin' version of All of Me to all three Pallies.
Mac Fox, Mike's Dad, front row, first on left
Playing with Frankie Meek and His Rhythm Rascals. "What a great name!"
Larry Mechem Sr. Band (Larry on far left)
Picture includes Dick Hersch (middle trumpet), Bob Swank (Bari Sax), Charlie Geiger (Vocalist)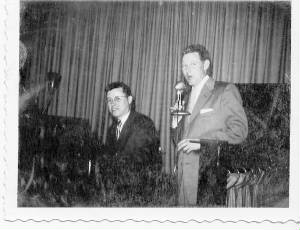 Uncle Russ Conley workin' a crowd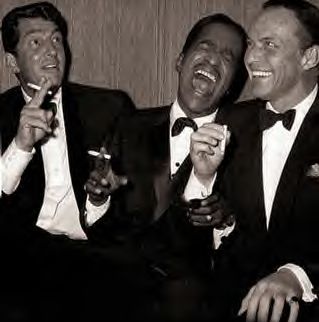 The Ultimate Entertainment "Pack"age
Sleepwalk
I've been doing this little vintage guitar song on engagements for about 20 years. Folks always...really...always, come up and ask "Who did that song?" or "What is the name of that piece?" It is one of the great mystery songs of the 1950's.
Do you know the answer? Think hard...
The tune is by two brothers from Brooklyn, New York...Santo and Johnny Farina. They have had great, long-term international careers mostly based on this one tune. (Kind of like Billy Paul's Me and Mrs. Jones. Know any other Billy Paul songs?) I didn't think so. Man, I need a record like that!
Hope you enjoy this classic. P.S.- This is one of my wife, Kathy's favorite tunes...good tastes.
Less is More
Everything I Own, Owns Me
Too Much Stuff
As America is moving into the this brave new world called the "post-industrial society", we wonder how the future will feel. A recent trend seems to be creating a new kind of lifestyle which is more simple. It has become a regular slogan-fest..."less is more"..."everything I own, owns me", etc.
Several countries have a lower per capita gross domestic product than American, yet when surveyed about their general satisfaction with their lives, including facets like safety, quality of government services, stress levels, etc...they score better than the U.S.A. (Pretty critical thinking for CD liner notes! But, I knew my clientel could handle it.)
Apparently there must truely be more to life than just money? That's was this little Country Swing diddy, Too Much Stuff, is all about.
"We're old guys, doin' a Rap song...
It's not our style, we just try to get along.
Old Guy Rap
...an original novelty tune by Mike Fox
Let me tell you how I came to write this hip-hop/rap style tune. Put yourself in my shoes...you are a semi-well preserved, late middle-aged male, performing in a popular society cover band, when this genre of urban dance music begins to emerge.
Most nights there are requests for some type of rap oriented line dance music. You look left and right on the bandstand and realize that you and your playing collegues look a little more like Ray Barone (from Everyone Loves Raymond) than they look like Snoop Doggy Dogg. You thought you were a hip band, but it turns out you are a band in which someone may actually NEED A HIP.
This is the genesis of Old Guy Rap. It's a great tune to fix this hole in your show list...without embarrasing yourself too much.
"When we get our check"...
"we're goin' to Waffle House tonight."